Please wait a moment while your information is retrieved.
Please wait a moment, while your orders are being processed. Thank you!
Use the form below to sign in to your Ohio Professional Registry account. If you don't have one, you can register here.
Sign In
---
---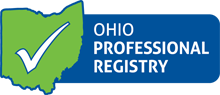 ---
Notice: OPR Closed for Maintenance on Thursday July 1, 2021.
The OPR will be offline and unavailable during this maintenance window.
End of Biennium SUTQ Program Notice:
Any training, credential, or education document uploaded into your profile in the OPR by June 30, 2021 will be reviewed for verification. Verified documents will be included in this biennium's PD Certificate and CPL calculations.
Security Notice:
Personal information such as social security number, banking or financial information is only entered into the OPR as needed for initiatives such as Hero Pay, One-Time Pandemic Support Payment, TEACH scholarships, Background Check Requests. OCCRRA will never contact you by phone or e-mail to ask for this personal information.